Effective Security Solutions
On-site patrol & surveillance services to protect your home, business, or event.
No matter your security needs, we have a solution for your business or organization.
Pac-Tac Protective Solutions' goal is to ensure our clients can focus on their bottom line. All while knowing we have the safety and security of their assets, reputation, and personnel under control.
We can assist in facilitating other positive programs to stimulate resident or employee/ contractor involvement in the security and safety of their community or worksite. To ensure a complete solution, we maintain good relationships with law enforcement and do our part to help prosecute when appropriate. Additionally, we leverage technology to assist in asset, Jobsite, or residential protection from remote temporary camera systems, permanently installed CCTV, asset tagging, to electronic reporting systems.
Efficient solutions in any situation
Pac-Tac Protective Solutions ensures our personnel receives the most up-to-date training and equipment. We train our employees to be professional, proactive, and an effective security force for our clients. The training program also provides them with experience in varied environments and settings, allowing for proper solutions in any situation.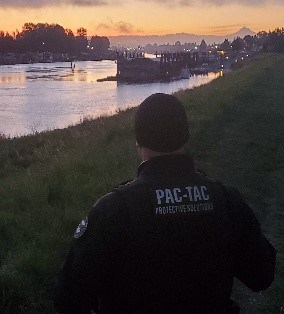 Pac-Tac Protective Solutions is owned and operated by a 22-plus-year law enforcement officer with a wide variety of experience. Using this experience, we provide custom-tailored programs and the flexibility of out-of-the-box security solutions to our clients. Our business focuses on meeting the needs of our clients against the ever-changing criminal landscape.
Pac-tac protective solutions solely employ experienced law enforcement or military personnel.