Pac-Tac Protective Solutions (PTPS) began business in May of 2018 and, while a relatively new company, is owned and operated by a professional with more than 25 years of experience in law enforcement. Jeromy, the owner, has utilized this experience to custom tailor programs and services he offers to each client so their needs are met.
Jeromy created Pac-Tac Protective Solutions, a division of Pacific Tactical LLC, to ensure clients got the solution they needed, which was lacking in the industry.
Our staff has decades of cumulative law enforcement and military experience. That experience allows us to be knowledgeable and provide services such as security planning and recommendations, on-site security, active threat mitigation plans, event security coordination, patrol response, surveillance operations, executive protection, and nuisance mitigation.
We pride ourselves on our ability to plan and implement security solutions and provide a visible presence efficiently and effectively. We are knowledgeable and have a strong working relationship with local law enforcement. Additionally, we take self-sufficiency very seriously and can provide you with personal protection training or training on drug influences.
PTPS' mission is to provide precise, effective, and prompt solutions to meet our client's security and protection needs. We use every advanced security planning, skill, experience, training, and technology at our disposal to get the job done. Our goal is to ensure our clients can keep their attention on their business rather than worrying about the safety and security of assets and employees.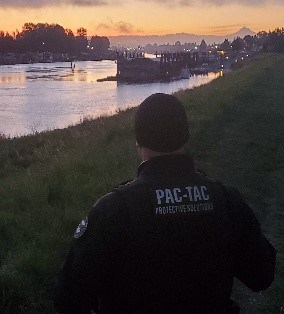 Let's resolve your security needs
We are ready to help you with professional security services you can rely on for your business.
Interview with Officer Scott
Looking for your next position?
We are always on the lookout for great qualified team members.